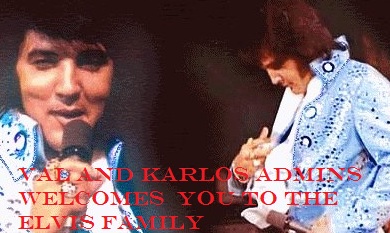 Hi to all elvis fans from val and karlos(admins)
A big warm welcome to all who joined our new elvis
fan site. we hope you enjoy your stay here.
ADMINS are trying there best to make this site
enjoyable for all.
feel free to join in eny of the topics and discusions. and eny comments and feedbacks to topics are really apprecated.
or even better make your own topics .
I would also like to thank my dear friend karlos for the effort and work
in helping me to make this elvis site possible.
and most off all thanks to ELVIS PRESLEY
this site is dedicated to the great legend himself.
we would appreicate eny feedbacks about the site and
let us know of eny ideas of what you like to see here.
ps eny problem or need help,
finaly
please contact karlos or my self via pm on this site.
from ( val and karlos your friendly admins)